The Artificial Intelligence (AI) arms race is truly heating up. As tech giants go all in on this revolutionary technology, Microsoft's latest announcements could give them the edge over the rest.

Just over a month after launching a new, AI-powered Bing, the tech company has pushed the envelope with the announcement of Microsoft 365 Copilot.
Having worked for over a decade on improving finance firms' efficiency through Microsoft Office-integrated technology, the team at UpSlide is thrilled to see Microsoft make waves in this space.
Embedded into Word, Excel, PowerPoint, Outlook, and more, Copilot aims to accelerate day-to-day work such as drafting emails, documents, and presentations, as well as analyzing trends and creating data visualizations.
This announcement comes at a critical point in the AI discourse for the finance sector. While some firms are eager to see how it could improve their team's productivity, others are understandably worried about the implication of these tools.
ChatGPT-4, the most advanced language processing technology to date, has raised doubts and concerns around compliance and security – with firms such as JPMorgan Chase, CitiGroup, Deutsche Bank, and Goldman Sachs restricting the use of the tool amongst its employees.
At UpSlide, we believe AI will be an opportunity for the finance sector, and Copilot is well-positioned to overcome some of the concerns we've witnessed in recent months.
Here's all you need to know about Microsoft 365 Copilot and what this means for financial professionals.
TL;DR
Microsoft has announced the launch of Microsoft 365 Copilot, an AI-powered digital assistant.

This new AI assistant promises to be more secure than popular existing generative AI models such as ChatGPT, overcoming some of the concerns coming from the finance sector in previous months.

While Copilot could help increase productivity across most industries, it might not meet the specific needs and requirements of the finance sector.
How will Microsoft 365 Copilot work?
Microsoft 365 Copilot is an AI-powered digital assistant that aims to provide personalized support for various tasks in Microsoft 365. To do this, it combines three foundational technologies: Microsoft 365 apps, Microsoft Graph, and Large Language Models (LLMs), including ChatGPT-4.
In simpler terms, Copilot leverages the power of ChatGPT-4 but elevates it and uses it in the context of a user's data (Microsoft Graph) within their Microsoft 365 apps.
Microsoft calls this the Copilot System – "a sophisticated processing and orchestration engine".
What is the Copilot System?
The Copilot System, the underpinning engine behind Microsoft 365 Copilot, differentiates Copilot from ChatGPT-4 – it gives context and "grounds" any prompt thanks to user data, content, and permissions. It does this in five steps:
Users create a prompt within one of their Microsoft 365 apps.
The prompt is pre-processed by Copilot, which retrieves a person's content and context from Microsoft Graph.
With the data from Microsoft Graph, Copilot then sends a modified and improved prompt to the LLM (ChatGPT-4), which provides a response back.
Copilot then post-processes the response, sending it back to the Microsoft Graph to check for security, compliance and privacy reviews, and command generation.
Finally, Copilot returns the processed response and commands to the user within the 365 app.
While this may seem like a long-winded process, Copilot will likely be able to run these steps in a matter of moments – think of a similar speed to getting a response from ChatGPT-4.
We'll see whether the system lives up to expectations only at launch – which hasn't been announced yet – or even sooner if you're one of the lucky customers who are testing it before then.
The elephant in the room: security and compliance
One of the biggest challenges with AI models, especially in heavily regulated sectors such as finance, is finding a balance between the productivity-related benefits and the compliance-related risks of these tools.
These are not irrational concerns, especially when we think of the amount of sensitive data financial professionals deal with daily – data that, if inputted into a LLM such as ChatGPT-4, would be used to train the model and would be available to all users, globally.
On top of that, while representatives of JPMorgan Chase declined to comment on the ChatGPT-4 restrictions across the firm, news outlets also reported compliance concerns over using third-party software as the main culprit.
Microsoft seems to have been able to address both of these concerns with Copilot.
Firstly, unlike ChatGPT-4, Copilot doesn't use prompts or a user's data to train the LLM beyond organizational use.
Secondly, Microsoft 365 Copilot is built upon software and applications that financial professionals already use every day, and that have already been given the green light by a firm's IT team.
Microsoft claims Copilot is built on their "comprehensive approach to security, compliance and privacy" and will inherit a company's security, compliance and privacy policies. Thanks to a time-tested permission model, Copilot will also only present data that each individual within the organization can access according to existing permissions within Microsoft 365 – limiting the risk of leaks between user groups.
While this is excellent news to dispel some doubts about AI, human error could still result in some serious issues, even within Copilot.
Say for example the tool is used to summarize sensitive data and confidential information about a client, or if permissions settings for a confidential document are wrongly set up within the organization – making it retrievable by Copilot across different user groups. Both instances could result in serious data breaches.
Ultimately, misuse could always result in some serious risks when adopting AI technology in finance – an issue that even Copilot won't be able to solve.
Microsoft 365 Copilot and the future of work in finance
Security and compliance aside, Copilot could still make headway for AI in the finance sector.
Primarily because financial professionals are no strangers to time-consuming, repetitive tasks.
Seen as a "rite of passage" for junior bankers, manual tasks within Microsoft 365, such as presentation formatting for pitchbooks, or updating data points for information memorandums, can take anywhere between 10 to 40 hours per week.
When we talked to bankers for our recent report on burnout in finance, it was clear that the industry needs to revolutionize how people work to improve work satisfaction and create a more fulfilling, attractive work environment.
To an extent, Microsoft 365 Copilot could be part of the answer to this issue. The tool could help finance teams focus on more fulfilling and value-adding work, such as dedicating more time to the creative and ideation process, interacting with clients, or prioritizing more strategic tasks.
Using Copilot in finance: PowerPoint, Word and Excel
While the use cases for Outlook and Teams will make many users happy (especially those who don't particularly like writing emails or taking meeting notes), we can see financial professionals becoming avid users of Copilot in Excel, PowerPoint, and Word.
Copilot in PowerPoint and Word
Say you're a junior banker building a pitchbook. As a marketing and sales document, any pitchbook must be crisp and concise. Copilot could not only help you create the draft based on existing documents, but it could also condense sections to improve readability and deliver a clearer message.

On top of that, it could help you save time summarizing existing documents and sourcing the correct information.

All you'd need to do is ask Copilot in your chosen Microsoft 365 app to "Create a presentation (or a document) based on XYZ file." Copilot would then summarize any given document and provide a starting point for your pitchbook.

However, this doesn't mean it will get you 100% of the way there (or in some instances, even 50% of the way there) – Copilot is unlikely to be able to follow your firm's specific format or include all the necessary slides, such as disclaimers for example.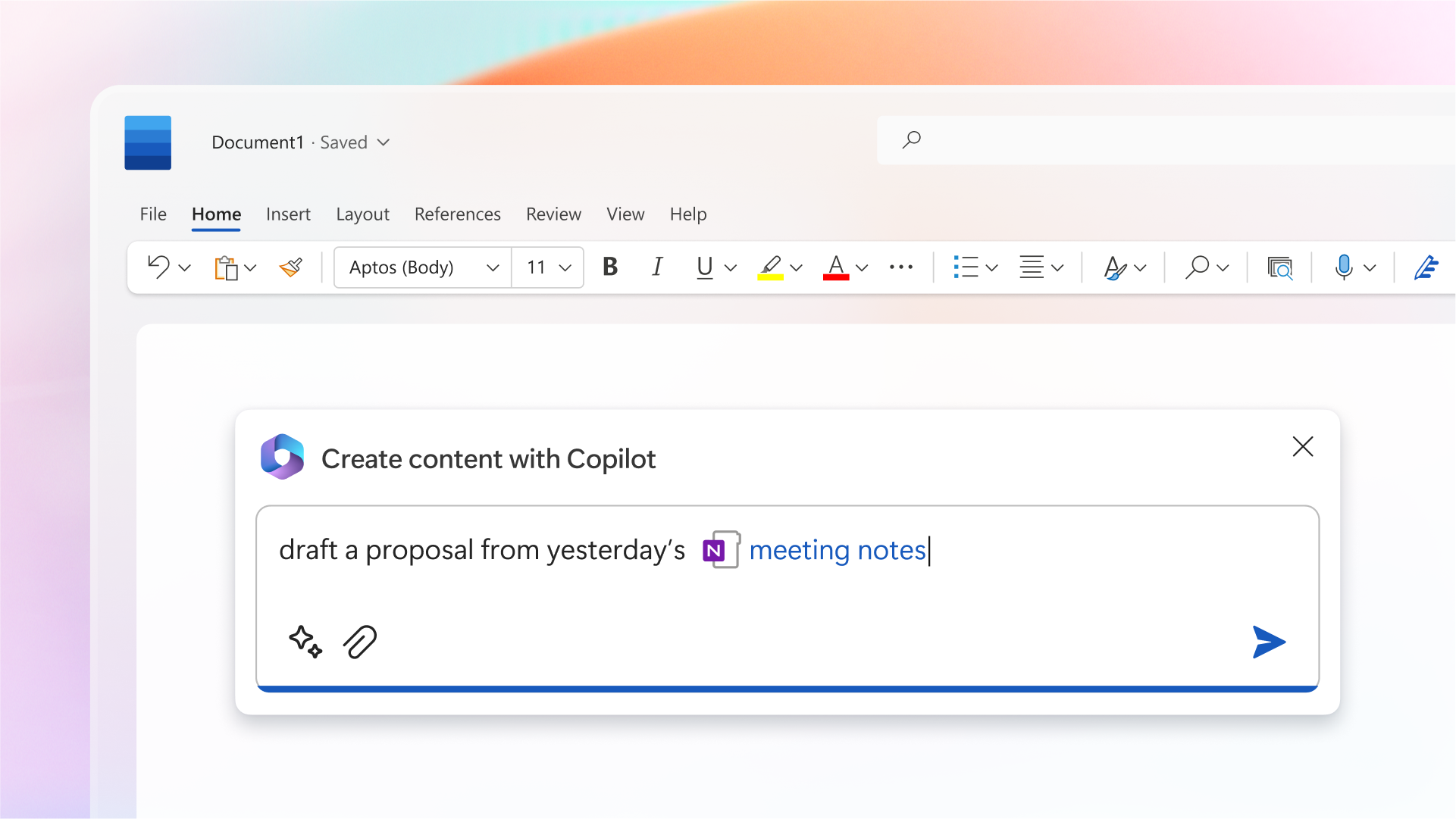 Copilot in Excel
Copilot in Excel could open a world of possibilities for financial professionals. From analyzing and exploring data, proposing what-if scenarios, and creating and formatting data visualizations, Copilot could save significant time spent sifting through data and manually creating financial models.
You could ask Copilot to "Analyze this quarter's business results and summarize key trends" or "What would have happened if we had maintained the prior quarter growth rate?". Copilot would provide an answer in its pane in a matter of seconds.
Similar to its use in PowerPoint, Copilot in Excel is unlikely to be infallible. We don't know yet whether it will be able to format data exactly as needed or whether it'll be able to deal with the finance sector's larger-than-average datasets.
Using Copilot in finance: limitations and challenges
So far, Microsoft has shown some fantastic examples of how Copilot could be integrated into a person's working day – but is it actually going to work?
For now, it's hard to say, but we can make some educated guesses as to the limitations of this tool.
The most important thing to understand is that not all functionalities will likely be available at launch (which hasn't been announced yet). Copilot will probably have to undergo several iterations before it reaches its full potential – we're talking about years down the line.
That said, even at its potential, it will never be perfect, and it doesn't claim to be. The name says it all – it's a copilot, not an autopilot.
Microsoft has already shared several limitations, such as being unable to add animations, transitions, videos, or tables in PowerPoint, and not working well when SmartArt, tables, or charts are on the slide.
For financial professionals, we see even more limitations to its use. In an industry where accuracy and certainty are paramount, AI's approximate and unpredictable nature will fall short of the necessary standards. It will still require a layer of adjustments from users on whatever output they receive.
On a practical level, we don't think Copilot will be able to solve some common challenges we see daily across our financial and professional services clients. Examples include maintaining tombstone databases, ensuring brand consistency through automated and distributed company templates, or reliably and accurately linking data from Excel to PowerPoint or Word. 
How we're thinking about Copilot at UpSlide
If they deliver on what they promise, Microsoft is well-positioned to officially make 365 the strongest tool in the market thanks to Copilot.
As a Microsoft Solutions Partner with 12+ years' experience working with the finance sector, we're thrilled to see Microsoft's investment in improving the 365 suite and changing how people work.
We share Microsoft's mission of making day-to-day work more efficient and rewarding through technology. However, our focus will always be on delivering a solution that meets the unique use cases of our client base – 90% of which is in financial and professional services.
The core of our offering is around integration – whether integrating Excel to PowerPoint or Power BI to PowerPoint. UpSlide automates complex, fundamental tasks unique to finance teams and users, such as accurate pitchbook creation, tombstones and bio generation, and report automation. Tasks that, today, AI is not able to replicate or enhance, not with the level of reliability and support we can provide our clients.
Moreover, whilst Copilot is likely to help individuals improve the quality and efficiency of day-to-day work, it's probably not going to solve wider business challenges such as brand consistency – one of our main focuses at UpSlide.
We also understand the excitement and expectations around AI. For years software providers have been trying to integrate AI into 365 applications with little success – Microsoft has changed the rules of the game by sharing accessible, pre-trained models within their 365 suite of products.
At UpSlide, we're eager to explore this technology to answer the specific challenges and use cases of the finance sector.
What's the verdict?
We have no doubts that Microsoft 365 Copilot will greatly improve how people work across 365 applications. It will help people save time on mundane tasks that are taking them away from higher-value projects, all while providing some level of reassurance from a security and compliance perspective to the wider business.
It remains to be seen whether it will answer all the specific needs and requirements of the finance sector. We're doubtful it will completely reinvent how financial and professional services professionals work.
The complexity of some of the tasks it'd need to complete, and the need for accuracy, compliance, and certainty in this heavily regulated sector could be too much of a hurdle even for an advanced model such as Copilot.
We might get more answers at Microsoft Build later in May, but as always, the proof is in the pudding, so we eagerly await a general release date.
In the meantime, follow us on LinkedIn to hear more about AI in the finance sector and automating repetitive tasks in Microsoft 365.